This article covers how my Ethernet Xpress broadband connection is affecting me and how the issues have been evolving over the last couple of months. I am constantly updating the SpeedTest results tables and providing updates towards the end of the article. As this article is getting a bit long, I have provided some quick links below. For a first time reader, I would suggest going through the whole article, to get a proper understanding of the issues.
A Brief History
I started using Ethernet Xpress as my internet service provider, in Mapusa in Goa, in January 2018. The initial setup wasn't much of an issue and it worked quite well in 2018.
In 2019, I had line cuts around once a month but for the most part, the support from Ethernet Xpress was quite good. Getting through to their support team was usually more troublesome than the support itself. The issues were usually resolved within a day or two. There were a couple of instances where it took a little longer but the missed days were added on and my plan validity extended. And again, when it was working, it worked quite well.
People did have stability issues during this time, which thankfully did not affect me. There was also a weird phase where the router had to be explicitly disconnected and reconnected for the connection to be established and a normal reboot would not work during this time. And lastly, yes, the connection speeds depended on the IP address you were allocated, although I think now everyone gets the 10.xxx.xxx.xxx internal IP address. Warren has a nice elaborate post on how it all worked for him, from setup to stability, which can be found here.
Ethernet Xpress In 2020
Now let's get to 2020. During the initial days of the Covid-19 pandemic and the full lockdown in Goa, I was hoping the connection would remain stable and it did. Streaming worked seamlessly and thankfully there were no line cuts. Between Netflix, Amazon Prime Video and Hotstar Disney+, the last one i.e. Hotstar Disney+ is the biggest bandwidth hog and my connection supported two simultaneous streams of Hotstar Disney+.
However in the last couple of months something has gone very wrong.
I'm on the 150Mbps Standard Half Yearly Plan. When checking connection speeds I always try and check speeds to Mumbai and Europe. Of course I'm never going to hit a full 150Mbps but I used to get above 60Mbps to Mumbai servers and a very decent 50Mbps - 60 Mbps to European servers. Hitting Ethernet Xpress' Panjim server is not a true indication of speed, as it's nearly an internal LAN connection.
Nowadays although my connection is working and is stable, the connection speed has dropped considerably and is nearly half. Below is a table of the documented SpeedTest results in the past few days. I check to the same locations and to the same servers in those locations, to try and get consistent results.
SpeedTest Results
20-08-20 10:00
60.7
81.0
27.9
63.5
30.3
69.2
20-08-20 17:00
37.9
56.1
11.4
37.6
1.4
28.3
21-08-20 10:00
60.9
88.2
11.3
60.6
23.3
74.7
21-08-20 18:00
57.8
79.7
28.3
62.6
25.9
75.1
22-08-20 10:30
58.9
86.0
25.7
55.1
10.7
54.0
22-08-20 16:30
48.9
84.5
33.8
71.0
10.8
69.4
23-08-20 10:30
70.4
92.5
33.3
85.6
38.5
85.0
23-08-20 18:30
50.0
87.5
23.8
90.3
26.9
84.8
24-08-20 12:30
63.8
56.3
36.6
37.5
34.7
42.6
24-08-20 19:00
64.6
94.7
31.2
56.9
27.8
68.3
25-08-20 12:30
51.0
90.5
2.4
17.4
1.4
21.7
25-08-20 17:00
67.1
84.4
41.0
84.5
26.3
48.4
26-08-20 10:00
68.3
93.6
3.4
84.9
9.5
90.2
27-08-20 10:30
75.3
90.9
28.2
84.2
5.7
90.7
28-08-20 10:30
62.0
91.4
18.0
87.8
6.5
82.1
29-08-20 11:00
58.9
82.9
11.6
85.5
5.8
87.4
30-08-20 21:00
64.8
82.8
8.5
85.0
4.6
88.8
31-08-20 22:00
77.8
86.3
4.4
82.1
13.8
89.9
01-09-20 13:30
71.0
55.3
3.8
72.1
8.1
34.2
02-09-20 14:00
53.5
89.5
4.4
86.9
8.4
83.8
03-09-20 10:30
64.4
91.7
8.9
88.0
10.3
75.9
04-09-20 21:00
54.1
38.6
8.7
51.3
5.2
48.7
05-09-20 21:00
42.1
91.7
21.8
86.7
16.0
79.9
06-09-20 20:00
77.1
58.3
5.0
80.3
14.1
89.3
07-09-20 17:30
79.6
87.1
28.0
88.2
44.2
91.1
08-09-20 10:15
86.5
93.3
52.6
92.7
56.4
90.4
09-09-20 09:30
84.2
92.6
56.3
81.7
43.4
80.3
10-09-20 14:00
61.8
93.9
51.2
78.9
34.0
87.7
11-09-20 16:30
31.2
89.7
2.5
85.1
1.8
84.2
12-09-20 10:00
73.8
48.5
6.2
52.2
46.5
51.4
13-09-20 13:00
19.6
84.5
27.6
90.7
9.9
88.1
14-09-20 10:30
61.0
96.5
10.4
83.6
4.2
89.9
Average
61.5
81.6
21.5
75.3
19.5
74.3
All connection speeds mentioned above are in Mbps.
By default only the last 10 records are visible. To display older records click here.
One Broadband Mumbai is rejecting connections from Ethernet Xpress from 17-Sep-2020, hence using Jio Mumbai instead.
As you can see, the connection speed to Mumbai is great but average download speeds to Europe have dropped to around 25Mbps or less. This is less than half the speed I used to get before. What's interesting to note is the upload speeds to Europe are around 60Mbps.
I've also started compiling data of connections speeds through a VPN. I have been using ExpressVPN for a few years now and I find it a very capable VPN option for all my needs. Now technically speeds through a VPN connection should drop slightly, due to the extra end to end travel and encryption overheads. But what is interesting to note is that the connection speeds have actually improved with the VPN active.
SpeedTest Results through ExpressVPN
26-08-20 10:00
57.7
44.1
60.0
43.9
61.0
43.0
27-08-20 10:30
55.6
42.4
53.9
39.0
56.8
39.3
28-08-20 16:30
60.4
47.9
46.7
36.1
61.2
41.5
29-08-20 11:00
31.9
32.2
44.6
33.4
39.7
31.8
30-08-20 21:00
59.0
42.5
48.7
38.2
60.6
31.6
31-08-20 22-00
61.4
59.7
62.2
45.2
64.2
45.2
01-09-20 13-30
54.1
32.1
56.6
35.8
57.0
35.3
02-09-20 14:00
41.4
42.6
59.6
40.9
52.5
39.2
03-09-20 10:30
59.0
41.7
59.3
41.4
51.4
42.4
04-09-20 21:00
64.5
38.9
52.9
38.0
55.7
37.0
05-09-20 21:00
42.1
91.7
60.0
20.8
60.6
28.9
06-09-20 20:00
58.6
42.1
46.3
52.3
64.2
52.3
07-09-20 17:30
59.0
42.2
57.4
34.1
53.1
24.1
08-09-20 10:15
57.5
50.0
57.9
57.8
66.6
49.1
09-09-20 09:30
73.7
46.6
68.5
51.6
62.3
46.5
10-09-20 14:00
61.8
93.9
71.9
34.2
71.4
37.8
11-09-20 16:30
52.1
38.4
48.5
34.6
33.5
32.1
12-09-20 10:00
66.4
39.4
59.3
40.4
43.5
34.8
13-09-20 13:00
72.2
82.2
53.1
39.2
59.3
41.6
14-09-20 10:30
61.0
96.5
60.2
47.5
55.0
39.3
Average
57.5
52.3
56.4
40.3
56.5
38.6
The VPN connection is established through London.
Using Singapore as a test location through the VPN to add extra distance.
All connection speeds mentioned above are in Mbps.
By default only the last 10 records are visible. To display older records click here.
One Broadband Mumbai is rejecting connections from Ethernet Xpress from 17-Sep-2020, hence using Jio Mumbai instead.
Now if Ethernet Xpress has a contention ratio issue wherein there are too many users sharing the same data capacity on its network or it has a physical fiber issue, all the speeds to all the locations should have dropped. But this is not the case as connection speeds to Indian servers and connection speeds through a VPN seem to be fine.
So the issue is only download speeds to non Indian servers from an Indian location. Going by how the connection speeds to non Indian servers improve through a VPN, it appears to be some sort of routing issue and/or bandwidth throttling by Ethernet Xpress.
Routing
Routing is the process of path selection for traffic on a network. I used Ping Plotter to check the network paths with and without the VPN enabled.
Example 1: Inmotion Hosting is a popular hosting company in the US. Going by the image below (first route without VPN, second route with VPN), one thing to note is that traffic without the VPN actually has more hops. There also appears to be a bottleneck at flagtel.com which I'm guessing is one of the upstream providers for Ethernet Xpress. FLAG Telecom is managed by Global Cloud Xchange which is a subsidiary of Reliance Globalcom (RCOM).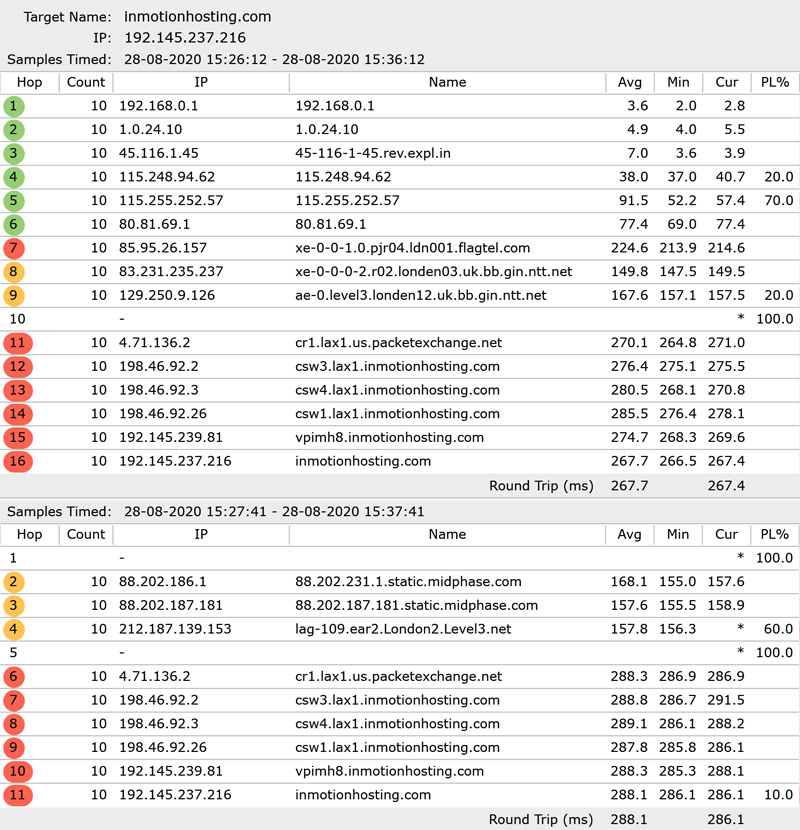 Example 2: Most of the traffic follows the above path through FLAG Telecom. Some traffic however does go through airtel.com. I used CNN to check this alternate path. The Airtel upstream does appear to behave normally and more efficiently, which can be seen in the image below (first route without VPN, second route with VPN).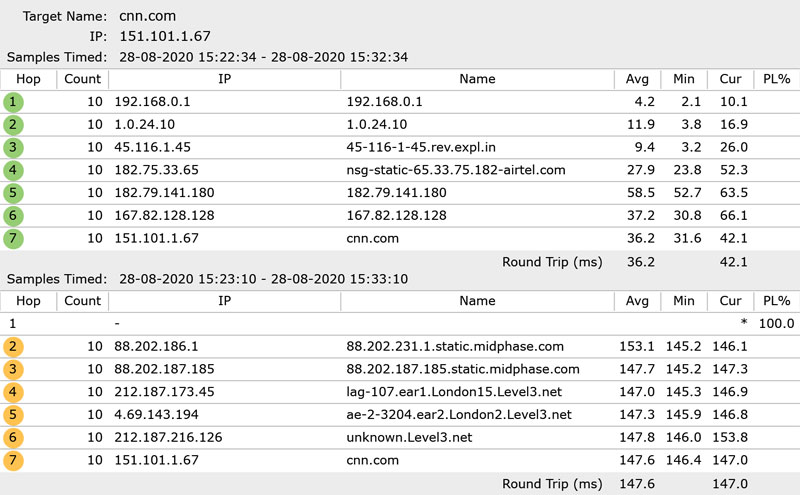 Bandwidth Throttling
If the reduction in connection speeds to non Indian servers is not a routing issue, then it is some form of bandwidth throttling. Bandwidth throttling can be seen as restrictions in some form on internet traffic, based on type of data, geographical locations, etc.
On their website Ethernet Xpress says it holds a Unified License from Department of Telecommunication (DoT) Government Of India. So if Ethernet Xpress is indeed indulging in some form of bandwidth throttling, then it is in violation of Telecom Regulatory Authority of India (TRAI) recommendations to preserve Net Neutrality in India.
Internal Configuration
Internally, the configuration I was initially using was an Asus DSL-N12E 300Mbps router but I have now switched over to a TP-Link Archer C60 AC 1350Mbps router. I switched over on 22-08-2020. The change in routers was done to improve my internal home Wi-Fi network and I hoped it might also improve my external connection speed but going by the SpeedTest results, it has made no difference to my external connection speeds.
Conclusion
According to me from August 2020 there is something wrong with Ethernet Xpress' connection speeds to non Indian servers. It can either be a routing issue or bandwidth throttling or a combination of both. I cannot say with certainty what the exact cause is, as I'm totally in the dark about the configuration on Ethernet Xpress' side.
I will continue to monitor the speeds and update the above tables in the coming days. If any of you are facing similar issues or can shed more light on the issue I am facing, let me know in the comments below.
Update 02-Sep-2020
I raised a ticket on 18-Aug-2020 asking if there was some sort of bandwidth throttling for non Indian traffic. I got a general reply on 29-Aug-2020 saying "Connectivity is restored internet working closing ticket".
I called the helpline today and got the same reply, that their connectivity is fine.
As the numbers above show, connection speeds have deteriorated even more in the last couple of days.
Update 09-Sep-2020
From 07-Sep-2020, SpeedTest results without the VPN active have improved drastically. I'm now hitting download speeds of 45 Mbps and more to non Indian servers. On checking the route used, all the traffic now seems to be going through the Airtel upstream. From this observation, one has to conclude that the Reliance upstream which routes through FLAG Telecom does indeed throttle traffic.
I hope Ethernet Xpress does realise the Airtel upstream is the better of the two and continues to use it as it's main upstream provider.
Update 14-Sep-2020
I spoke too soon and jinxed myself! The connection speeds till 10-Sep-2020 remained good but from then things have become erratic. I am now mostly redirected through the Airtel upstream and sometimes through a Tata Services upstream. After my connection is active for a while, the speeds to European servers drops again. A router restart seems to fix this new speed issue now. I've tried this thrice today and it worked every single time. Maybe a coincidence, maybe not? Again, speeds to all Indian servers are great, so it's definitely not a router issue. Below is a screenshot of the SpeedTest results before and after a router restart.
I emailed Ethernet Xpress' support today telling them about this issue. I promptly got a call back earlier this evening saying everything is fine and to check speeds to their Panjim Server. I tried to explain the exact issue to the person on the line. He finally said he would check and get back to me.
I got another call a little later, this time from the area manager in charge, saying the same thing, no data is throttled and everything is fine and speeds to outside servers will drop. Again I tried to explain the problem to them that speeds to only non Indian servers are an issue but seem to work fine over the VPN. It was only when I explained the information I had gathered, about the upstreams and routes, was I told that they would check things and get back to me.
To be very honest, the behaviour of the connection is totally random in the last few days and it's difficult to understand what the issue is without knowing the backend configuration. Ethernet Xpress' support is understandably reluctant to elaborate on this backend configuration.
Update 20-Sep-2020
I asked a couple of friends located here in Mapusa, to check the speeds they were getting on their Ethernet Xpress connection. I was very surprised with the results!
Friend 1 - Karaswada, Mapusa
80Mbps - 105Mbps to Amsterdam, London and Toronto on IP 103.56.40.191
Friend 2 - Kamat Gardens, Mapusa
75Mbps - 90Mbps to Amsterdam, London and Toronto on IP 36.255.233.131
So this means the Ethernet Xpress network is capable of extremely good speeds from other locations in Mapusa. I contacted Ethernet Xpress support again and again I got a message to check speeds to their Panjim Server only. Why do they not realize the whole Internet isn't stored on their Panjim server?
Again I tried to explain the whole situation and I got a message that they will check and get back to me. My patience is running very low at the moment. This sort of situation just cannot continue.
It's beginning to now look like a contention ratio problem and/or internal routing problem and less of a bandwidth throttling problem, as I am still facing the problems on the Airtel upstream, which I initially thought was the better upstream.